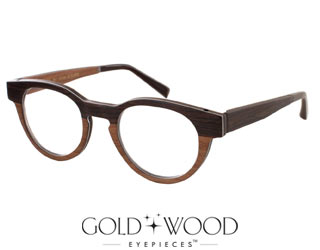 Citing a strong growth year, domestically and internationally, Gold & Wood founder, Maurice Leonard, has joined forces with eyewear designer Alain Miklitarian, creator of the international Alain Mikli brand, to join the Gold & Wood team. Miklitarian will take the position of artistic director with the company effective with the upcoming Silmo exhibition, to be held Oct.6 to 9 in Paris.
Leonard said he wanted to "capture the momentum and change the trajectory for the Gold & Wood brand. Our industry is craving creativity, something unique yet wearable, luxurious designs with noble material inspired by genius, I cannot wait to see them. Alain is not looking to change our DNA, just to enhance the experience, keeping the same spirit that Gold & Wood has maintained for over 25 years. This is a very exciting and promising time for our company."
Miklitarian said he is "inspired by the challenge of the material, having 12 exotic and rare woods from around the world to work with." In recent releases, the Gold & Wood collection has combined different material such as silk, carbon fiber and Japanese titanium with its wood materials.
Source: http://www.visionmonday.com/latest-news/article/alain-miklitarian-joins-gold-and-wood-as-artistic-director-in-october-1/