DOLORES MEETS LOLITA
Bringing to life colors and shapes from the '60s, Etnia Barcelona introduces its newest limited-edition frame Dolores. This style is inspired by Lolita—the girl with a provocative attitude hidden behind a sweet and innocent gaze, who writer Vladimir Nabokov brought to life and Stanley Kubrick brought to the big screen. Despite the many years that have passed, Lolita will always remain a style inspiration. The iconic shape of these glasses has evolved over time, marking a before and an after. Available in seven colors, this style has details incorporated to reflect one of the most inspirational periods of its design. Its soft and rounded shapes, which are characteristic of handmade patterns, are a standout feature. The different colors of mineral lenses and acetates also match the color range of the era. In addition, the acetates are biodegradable because they are made from natural cotton. For this model, a classic hinge was designed without flexo, and engravings were incorporated inside which enhance the clear and timeless look of Dolores. Now, Etnia Barcelona has created the most modern version to date as this limited-edition product pays tribute to those individuals who brought the controversial Lolita into being.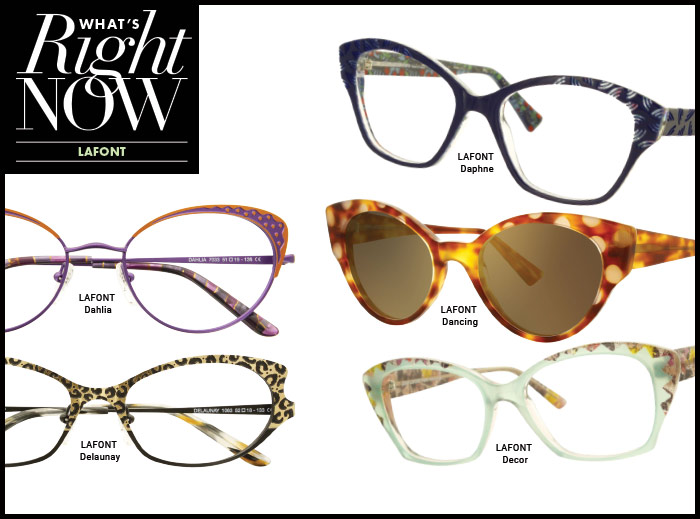 ARTFUL INSPIRATION
An artful inspiration works its way into chief designer Thomas Lafont's spring/summer 2019 Lafont Paris Women's collection. Influenced by Henri Matisse and his famous cut-out art, Lafont interprets the artist's work in a vibrant collection debuting this January. Matisse's expressive technique was conducted by a pair of scissors and creatively composing different shapes and colors. The House Lafont, best known for its distinct use of color and contrast, portrays its artful eyewear with similar techniques in acetate. Styles such as Decor and Dancing fuse puzzle piece mosaics of contrasting acetate colors into one seamless optical and sunglass design. The feminine optical frame Daphne features two-toned engravings of eye-catching linear patterns. Lafont's artistic inventiveness is also seen in stainless steel designs Delaunay and Dahlia. The eye-catching silhouettes are paired with expressive polka dots and panther prints in vibrant hues. Throughout the entire campaign, frame lovers are guaranteed to discover a gallery of imaginative and exquisite designs.
Lafont's offerings are designed in Paris and handcrafted in the Jura region of France. The collection is accredited with the Origin France Guarantee, ensuring consumers the traceability and origin of their product.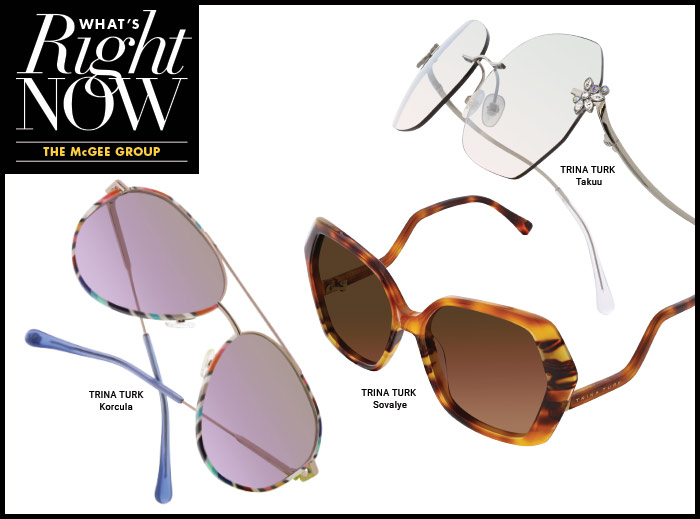 JET-SETTING FUN
Trina Turk introduces its spring 2019 sunwear collection. The collection is all about seeing the world in style from destinations such as Los Angeles, Miami, New York, Paris and Palm Springs. Each sunglass features Italian acetates, Swarovski stones, Windsor rims and bursts of graphic colors and prints that the brand is known for. Offering an elegant yet refined look, style Takuu is a rimless sunglass style featuring tonal Swavorski stones on the frame front. Style Korcula offers a traditional Windsor rim aviator shape and is available in customized Trina Turk prints. For those looking for an oversized sunglass, style Sovalye offers a butterfly shape with drop temples.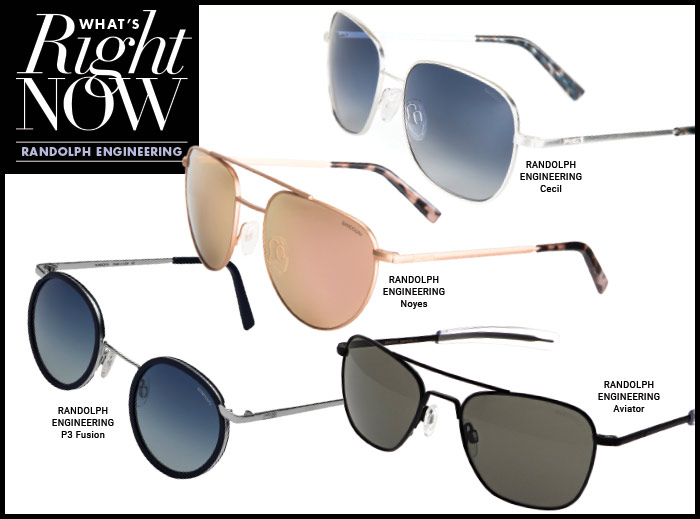 HANDCRAFTED AMERICAN EYEWEAR
Randolph Engineering presents new color and lens options to its sunglass collection. The Cecil sunglass is an oversized square shape with a lightweight bridge and is named after Cecil "Teddy" Kenyon, a test pilot for Grumman Aircraft during WWII. Similarly, the Noyes is named after Blanche Noyes, the first woman to receive her pilot's license in Ohio and is an aviation-inspired double bridge frame styled in the brand's classic v-profile component set.
Going back to classics, the P3 Fusion is a combination of the brand's most popular shapes, the P3 and Aviator, and combines a high-quality metal frame with comfortable premium inlays. Lenses are available in four view-enhancing colors with AR coating for a comfortable fit. The Aviator sunglass style was originally built for the U.S. Military and surpasses rigid military-spec standards and is suitable for very rigorous demands.
MADE IN THE FADE
Vari Eyewear offers another twist on tradition and incorporates timeless shapes, eye-catching color classics and trendsetting ombres in their latest styles VR17 and VR18.
The brand offers classic shapes, stainless steel temples, tailored details and extraordinary comfort in a wide array of color combinations that give a spin to classics like matte black and tortoise, and provide a unique take on ombre styling. These frames are just a small sample of Vari's 2019 collection.
Source: https://www.2020mag.com/article/whats-right-now-0119